In-person Training
WCCA offers monthly Home Stretch classes for potential homebuyers. Home Stretch training workshops aim to educate potential homebuyers about each step of the home buying process and about life after purchase. Home Stretch classes are offered in a classroom setting and often include presentations by local businesses. WCCA's certified educator, in collaboration with volunteer realtors, lenders, home insurance agents, title companies, home inspectors, and financial analysts, provides relevant financial and housing information to potential homebuyers. There is a registration fee of $30.00 per household for books / materials.
The purpose of this service is to ensure that Wright County residents have access to training and information that will help them obtain or maintain permanent, safe, affordable housing. In today's economy, homebuyer education is essential. It provides new homebuyers with a clear understanding of the financial commitment being made so that they can avoid entering into mortgages that can't be repaid. At the conclusion of the 8-hour session, participants receive a certificate of completion. These certificates are a requirement for some down payment assistance programs. Classes are held on weekdays, evenings, and weekends, with a variety of one day and two-day sessions.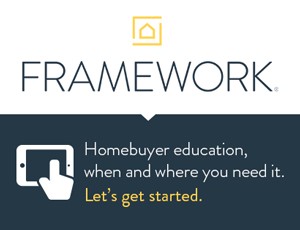 Online Training by Framework
Smart Homeownership Starts Here
Buying a home is a big deal, whether you're doing it for the first time or getting back into the ever-changing market. When you educate yourself for smart homeownership with Framework, you'll navigate every step of the process with confidence. The Framework course is affordable too: just $75.
To get started, visit wcca.frameworkhomeownership.org
Click here for a video preview.